Sailing Yacht Charter
Sailing Yacht Charter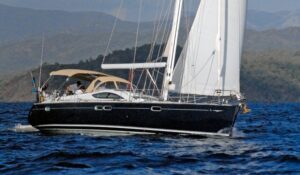 While on board your sailing yacht charter, you can ask your captain to sail to the Greek Islands since they are closer to Turkey than that of Greece herself!! For the Greek Islands, you need to pay some extra fees which are not included in the contract that you will sign sailing yacht with us. When calling us or emailing us, we can explain everything for you concerning the Greek Islands.
Of course, when you are on board your sailing yacht, you are treated as if you are the owner of this sailing yacht charter Turkey. You can ask your captain to sail at any time you like to wherever place you prefer! You might have heard of the Turkish sailing yachts charter cuisine that is famous for its delicious courses that date back to the Ottoman Empire time and that our guests enjoy.
The high sails that try to reach the sky in their height are amazingly appealing in your Turkish sailing yacht. Cruising with a Turkish sailing yacht is quite fantastic and penetrating the airs of the Mediterranean and Aegean seas. Experience and only by experience can evaluate the beauty of such cruising along the Turkish Riviera.