Yacht for Sale in Turkey
Yacht for Sale in Turkey
Being a part of the yachting industry for 17 years gives us enough experience with yacht for sale in Turkey and the Mediterranean. Preowned or second-hand yachts such as traditional carvel planking systems or epoxy laminated mahogany gulets or glass-reinforced plastic sailing yachts.
We make sure that each and every yacht for sale in Turkey are prescreened before being offered by us in order to protect our client's interest and to make sure that yachts for sale have a commercial value as much as the owners asking price. We have been serving many customers either buying or selling large motor yachts, luxury gulets, and crewed sailing yachts.
We have sold many Turkish traditionally built, epoxy laminated wooden gulets to Greece, Italy, the South of France, Spain, England, Lebanon, Dubai, Maldives, and Thailand. Whenever you need it, we can provide you professional yacht crew for overseas delivery. If you are considering a gulet that is traditionally built with a carvel planking system or a modern luxury gulet that is most probably built with the highest quality yacht building materials with cold-molded epoxy laminated mahogany.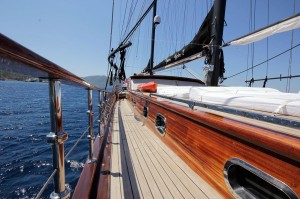 We would love to share our yacht building, yacht survey, and yacht charter experiences with you. It is extremely important to know what kind of timber and craftsmanship has been carried out during construction for the yacht for sale that you are interested.
The builder's reputation yacht's age is also an important issue. Brand name of the engine and the power generators, the quality of propellers, shafts, and the general layout is also very important to know, the hydraulic systems on board, electric panels, and cable installations, sailing gears, masts, rigging materials such as chrome wires or rods, hydraulic or electric winches, every little detail have to be surveyed and confirmed.
The boatyard and the builder's reputation are extremely important, high quality craftmanship makes a significant difference on the yacht for sale price, yacht's interior design and decoration as well as cabin furniture.
You need to make sure that the gulet you are buying should be suitable for your criteria and should have a nominal value which means she has to have at least the resale value. Please feel free to contact us before buying a motoryacht or Gulet for sale in order to avoid a crucial mistake.