Yacht Charter Turkey
Yacht Charter Turkey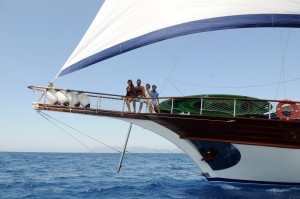 The western side of the Mediterranean is waiting for those yacht charter Turkey lovers to satiate their thirst for the blue waters. Having one week charter is quite the same as celebrities live and spend their vacations at the private and secret bays or islands. Turkish Riviera is quite satisfying to anybody curious about the sea. Having a nice time accompanying your friends, your family or even your beloved one is quite fantastic.
Yacht charter Turkey is a good choice on your part because when it comes to the virgin nature and the crystal clear waters with lush green mountainous islands, you can be sure that this is an amazing and enterprising scheme for your chartering aspirations.
Your cruising on board yacht charter Turkey would be estimated according to the number of guests that you would like to host on board.
This means that when you decide on one yacht to charter, you should take into your consideration that you should charter a yacht that is suitable in size to the number of the charterers that you intend to have on board.
At any decision you make, calling us as an important company in the world of yachting is quite convenient for your behalf simply because we can save you a lot of time, effort, and even money.
Our professional captains are always ready to respond to your inquiries about anything related to marine life and the marine industry in general. We have hundreds of yachts for charter that you can see in our portfolio when you decide to have yachts charter Turkey. Checking that all choices are in your hand is guaranteed when calling us four months or maybe more, before your chartering time.
Don't expect that you can locate your yacht charter Turkey when calling just a short period, like a couple of weeks, earlier than your holiday because this means that you cannot charter at the same time that you would like and maybe you cannot even locate the best yacht possible for your needs.
This is why it is quite convenient for you to have your reservation three or four months earlier than your cruising time. You can send us an email telling us about the number of your guests, the time that your vacation starts, and you can even tell us about the nearly budget that you intend to pay for yours.